Three Bros Porta Potty Rental in Independence, MO
The Smart Choice for Clean, Low Cost Porta Potties in Independence
Three Bros Porta Potty Rental is the best choice when you need Independence portable potty rentals for an event, construction project or any other reason. Three Bros makes the entire process of renting a portable toilet as easy as possible from start to finish. We have an excellent selection of units available at low prices, and most importantly we keep them extremely clean.
Three Bros has been in business for more than 10 years and we have an excellent reputation among our customers. Our customers are constantly recommending us, which is why the majority of our business is repeat customers or referrals. If you have any questions, or you are just looking to get rates for porta potties in Independence, give us a call at (816) 429-1166.
Call Now to Rent a Porta Potty in Independence, MO
(816) 429-1166
Types of Porta Potty Rentals in Independence, MO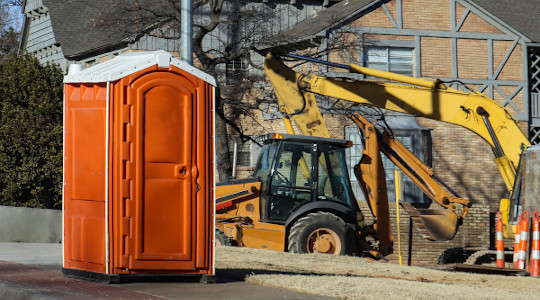 Standard Porta Potty Rental in Independence
Standard porta potties are the most common rentals in Independence. You've probably used them at concerts, events or at sports fields. You have probably been in some disgusting units in the past, but with Three Bros, you will get a clean unit that will smell fresh. Units come with toilet paper and tank chemicals. We will also pump and clean the unit if you are keeping it for more than a week.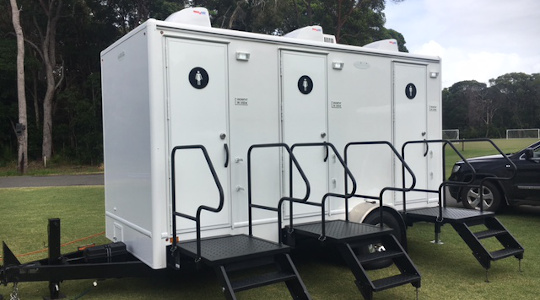 Restroom Trailers & Special Event Porta Potties in Independence:
Special event porta potties in Independence are often referred to as VIP restrooms. They come often come with sinks inside the unit, and sometimes have fully flushing toilets. On the high end you can rent a restroom trailer which has air conditioning, lights, sinks, running water and all the amenities of a traditional restroom in a home.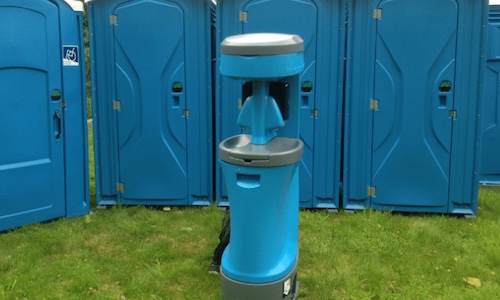 Other Portable Sanitation Solutions in Independence
We've got sinks, handwash stations premium paper, sanitizer and anything else you need to go along with your porta john. Portable urinals are also available.
Get Portable Toilet Prices in Independence, MO - Call Now:
(816) 429-1166
How Much Does a Porta Potty Rental Cost in Independence?
The average price of a porta potty rental in Independence is about $200. This includes drop off and pick up of the unit. The price is usually the same whether you want it for just one day or a weekend or for a whole month. Here at Three Bros Porta Potty Rental we take pride in having competitive prices, so give us a call now at (816) 429-1166 to see how much it will cost for your project.
Popular Uses For Portable Toilets in Independence
Portable restrooms can be used for tons of different reasons, here are just a few of the most popular:
Backyard parties
Campsites
Concerts
Construction sites
County Fairs
Disaster relief
Emergency use
Golf Courses
Parking Lots
Parks
Parties and events
Renovations and remodeling
Rest stops/areas
Schools and universities
Sports stadiums and fields
Weddings
How Many Porta Potties Do You Need?
This is one of the most common questions customers have when renting a porta potty in Independence. The recommendations are different depending on the use. Construction sites require a different number of restrooms per person than a special event does. For a construction site, you should get one porta potty per 10 workers. If your event is serving food and drinks (especially alcoholic drinks) then you will need more restrooms per person. Here is a quick chart to help you determine how many toilets you should get for a special event:
Guests
Length of Event in Hours
1
2
3
4
5
6
7
8
9
10
50
1
1
1
1
2
2
2
2
2
2
100
2
2
2
2
2
3
3
3
3
3
250
2
2
2
2
3
3
3
3
3
3
500
2
4
4
5
6
7
9
9
10
12
1000
4
6
8
8
9
9
11
12
13
13
2000
5
6
9
12
14
16
18
20
23
25
You should add about 15-20% to the numbers above if you are serving food and drinks at your event.
Handicap ADA Accessible Units and Sinks
It's recommended that you get one handicap restroom for every four standard units. You should also get one sink or handwash station for every four standard units.
We Provide Porta Potty Service to Independence and:

Blue Springs, MO
Buckner, MO
Claycomo, MO
Fairway, KS
Gladstone, MO
Grain Valley, MO
Independence, MO
Kansas City, MO
Kansas City, KS
Lake Lotawana, MO
Leawood, KS
Lee's Summit, MO
Lees Summit, MO
Liberty, MO
Mission, KS
Mission Hills, KS
North Kansas City, MO
Pleasant Valley, MO
Prairie Village, KS
Raytown, MO
Riverside, MO
Roeland Park, KS
Sugar Creek, MO
Westwood, KS
64002
64013
64014
64015
64016
64029
64050
64051
64052
64053
64054
64055
64056
64057
64058
64063
64064
64065
64066
64068
64069
64072
64075
64081
64086
64088
64101
64102
64105
64106
64108
64109
64110
64111
64112
64113
64114
64116
64117
64118
64119
64120
64121
64123
64124
64125
64126
64127
64128
64129
64130
64131
64132
64133
64134
64136
64137
64138
64139
64141
64144
64148
64150
64151
64156
64157
64158
64161
64162
64168
64170
64171
64179
64180
64184
64187
64188
64191
64196
64197
64198
64199
64999
66101
66103
66105
66110
66115
66117
66118
66119
66160
66201
66205
66208
66250
Three Bros Porta Potty Rental
510 N Westwood Dr
Independence, MO 64050
P: (816) 429-1166